Are you an adult who has always wanted to learn how to play the piano? Or are you already an intermediate player looking to enhance your skills further? If so, keep reading to discover some of the best piano books available for adult learners.
Music is a universal language that can bring joy and relaxation to our lives. Learning to play the piano can be a rewarding experience that adds a new dimension of appreciation to music. Piano books are excellent resources for fundamental skills, techniques, and different musical styles, making them an indispensable part of the learning process.
Whether you are a beginner or an intermediate player, finding the right piano book can be challenging. With so many options available, it can be challenging to know which one to choose. That's why I have created this article to provide you with a guide to the best beginner piano books for adult learners. I aim to help you find the perfect resource to help you achieve your musical goals.
Embark on a new journey of discovering the world of música with the help of the right piano book. Whether you're looking to learn the fundamental techniques or improve your skills, this comprehensive guide of the best piano books for adult learners can help you find the perfect resource. Choose the right book and start learning today.
💡
Just a heads up, Reading Rhapsody could make money from sales or other compensation through any of the links on this page if you purchase something – that's how I keep afloat! My reviews have been tweaked to ensure they are both concise and clear. Nevertheless, all opinions in this article are my own. Now go ahead and begin your journey to find your next favorite read!
How I Choose
When it comes to picking the best books to review, I have some guidelines that I use. I always look at reviews from other readers and critics to see what they're saying about the book.
Then, I research its ratings and awards to see what other people think about it. Lastly, I compare several books from the same category before making a list of recommendations.
This helps me to understand each book better and form an honest opinion about it. In my book reviews, I like to share what I loved about a book and what makes it worth your while.
Types of Piano Books for Adults
If you're an adult starting or want to improve your piano skills, using books can be a valuable tool! However, it's important to choose the right one that suits your level of piano skill, musical preference, learning style, and goals.
Luckily, there are a variety of piano books available for adults, ranging from beginner to advanced levels and spanning different musical genres. In this article, we will explore the different types of piano books for adults, highlighting their unique features and benefits to help you find the perfect fit for your musical journey.
Traditional Method Books
Have you heard of traditional method books for piano? They're books that follow a step-by-step approach to teaching you how to play by reading sheet music. They start with the basic music theory, then gradually move on to more complex stuff. These books are awesome for piano players of any skill level but are especially great for adult beginners starting on their piano journey.
The cool part is that these books don't just focus on classical music. Classical pieces may be included, but they'll also teach you important skills like how to play scales, proper hand position, and finger dexterity. These skills are important no matter what style of music you're interested in playing. So, if you're an adult excited about learning the piano basics, traditional method books might be exactly what you're looking for! Pop and Jazz Books
Popular Music-Based Instructional Books
If you're an adult learning to play the piano, you might want to try instructional books that focus on popular songs. These books can keep you excited and motivated because you get to learn songs that you already know and love.
Technical Exercise Books and Sight Reading Books
If you're teaching yourself how to play piano, two kinds of books can help you. The first kind is called technical exercise books, which help you build finger strength, speed, and dexterity. The second kind is sight reading books, which help you practice reading music and playing it at the same time.
Music Theory and Music History Books
Understanding the history of music and its theoretical elements is essential in learning how to play the piano. Music theory books can provide knowledge about chords, scales, progressions, and other musical concepts. It's also essential to understand how different styles developed over time to appreciate musical diversity.
Video Instructional Materials
Adults who want to learn the piano may find it challenging to practice regularly and understand complicated musical concepts. Luckily, technology has made it possible to learn piano from home using video instructional materials like online courses and tutorial videos.
These materials provide a more dynamic learning experience by offering visual and auditory aids, breaking down complex concepts, and teaching music theory. They also allow students to learn at their own pace and schedule, meaning they can progress comfortably without experiencing burnout.
Piano Books for Adults: Must Haves
Learning to play the piano is a skill that can enrich your life in countless ways. It can help you de-stress, improve focus, and even enhance problem-solving abilities.
Whether you're a complete beginner or picking the piano back up after a break, choosing the right piano book is essential. We'll discuss the best piano books for adults that cover everything from technical exercises and popular songs to music theory, sight-reading, and playing techniques.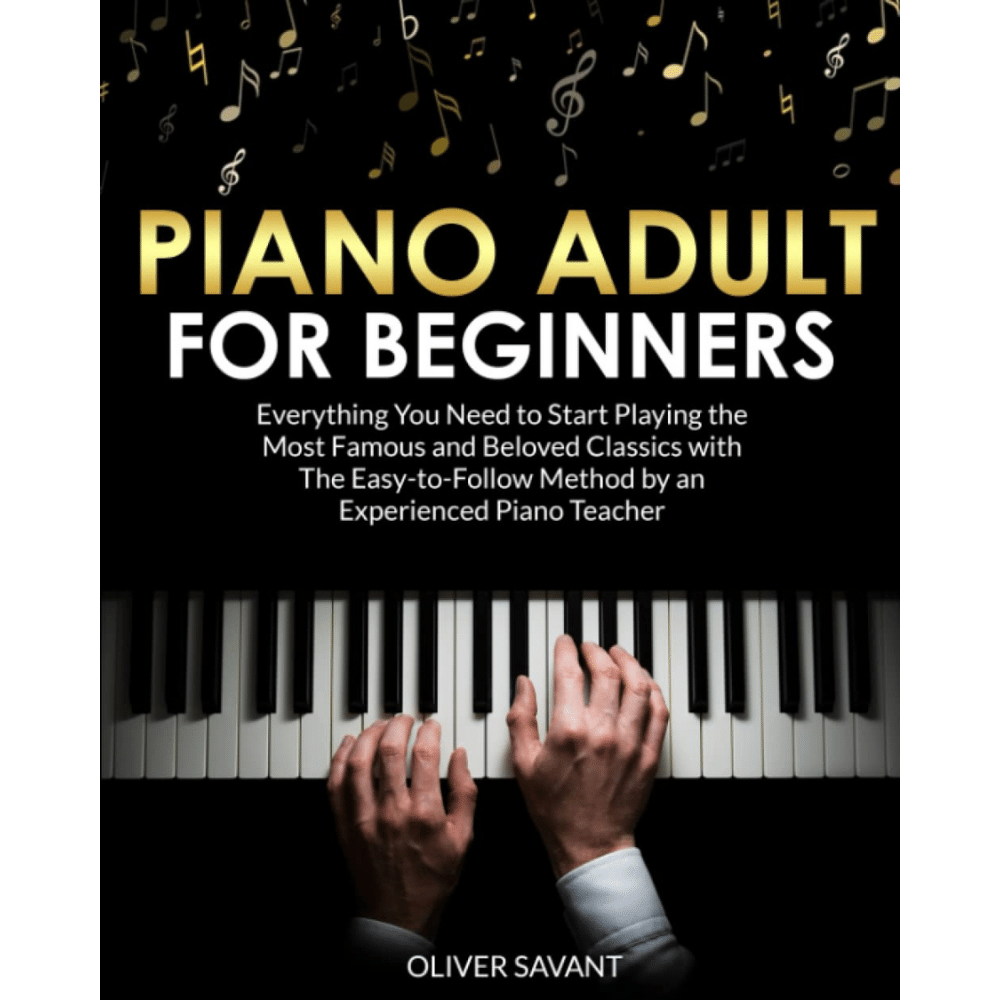 Piano Adult for Beginners
Check Price on Amazon
Why do I Love It?
What I love most about this book is how it takes complex musical concepts and breaks them down into simple, easy-to-understand lessons.
The book covers everything from proper hand positioning and basic music theory to advanced techniques like interval recognition and sight reading. But what sets "Piano Adult for Beginners" apart is its focus on practical application.
Throughout the book, Savant includes popular songs and technical exercises that not only help readers build their skills but also allow them to enjoy the music they're learning.
What you should know
For those considering Piano Adult for Beginners, there are a few things you should know before diving in. Firstly, the book is designed for complete beginners, so if you already have some musical experience, you may find some of the early lessons to be somewhat basic.
However, as the book progresses, the material becomes more challenging, so there's something in here for everyone. Secondly, the book is structured around a step-by-step method, which means that readers are expected to complete each lesson before moving on.
While this may seem daunting at first, it makes for a very organized and easy-to-follow learning experience.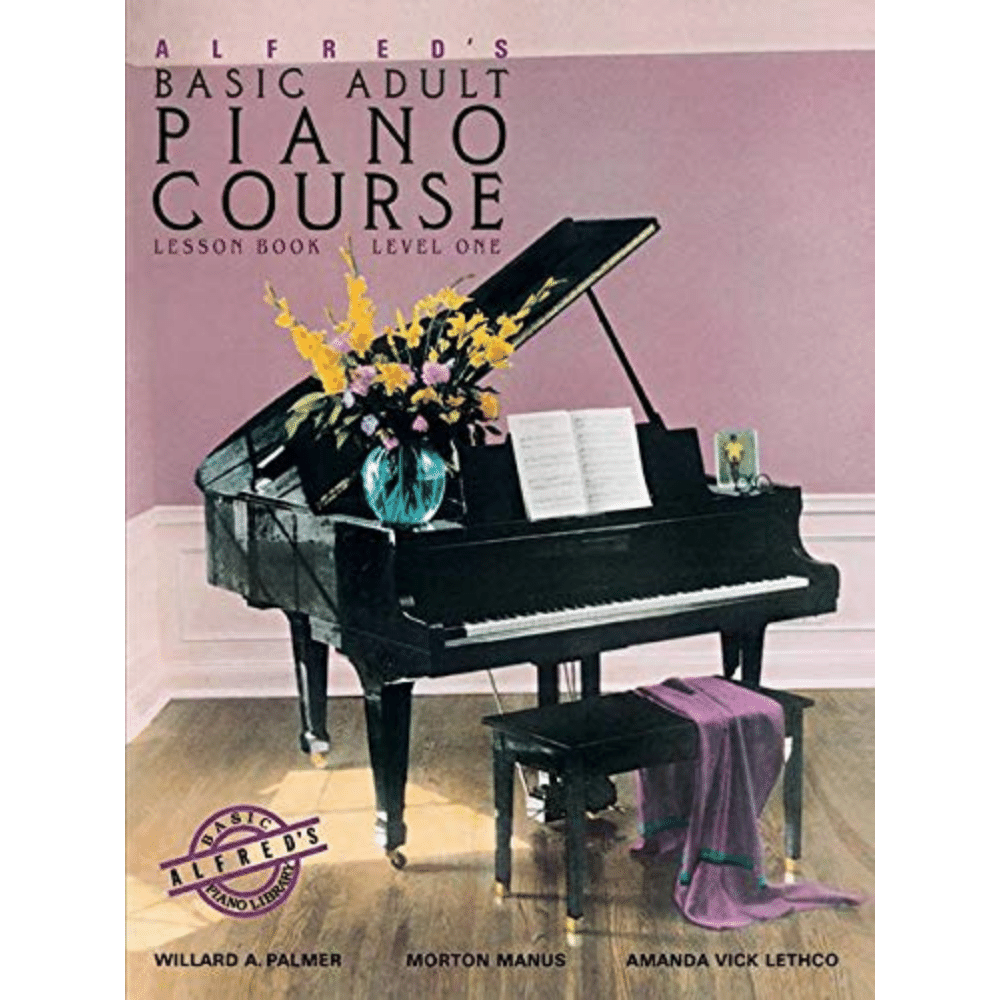 Alfred's Basic Adult Lesson 1
Why do I love it?
Alfred's Basic Adult Piano Course is an excellent pick for beginners. I had little knowledge of music theory, but I found the book easy to follow. The course quickly guides you from finger placement to playing easy tunes. Reading music and playing are covered in the same lessons, in small steps.
Lessons include a basic explanation of the musical concept and notation, alongside one or two practice pieces of music to play. Perseverance and patience are essential and each lesson must be mastered before progressing further. Alfred's Basic Adult Piano Course is a practical book and an effective way to learn.
What you should know
Alfred's Basic Adult Piano Course is a great beginner piano course for adults who have little or no musical experience. The book is designed to teach basic piano techniques and the fundamentals of music theory in a fun and engaging way.
Beginners start by learning simple rhythms and playing famous songs, then gradually progress to more complex chord progressions and musical styles. The book introduces interval recognition and sight-reading and includes simple exercises and technical studies to help learners develop strong piano skills and correct playing habits.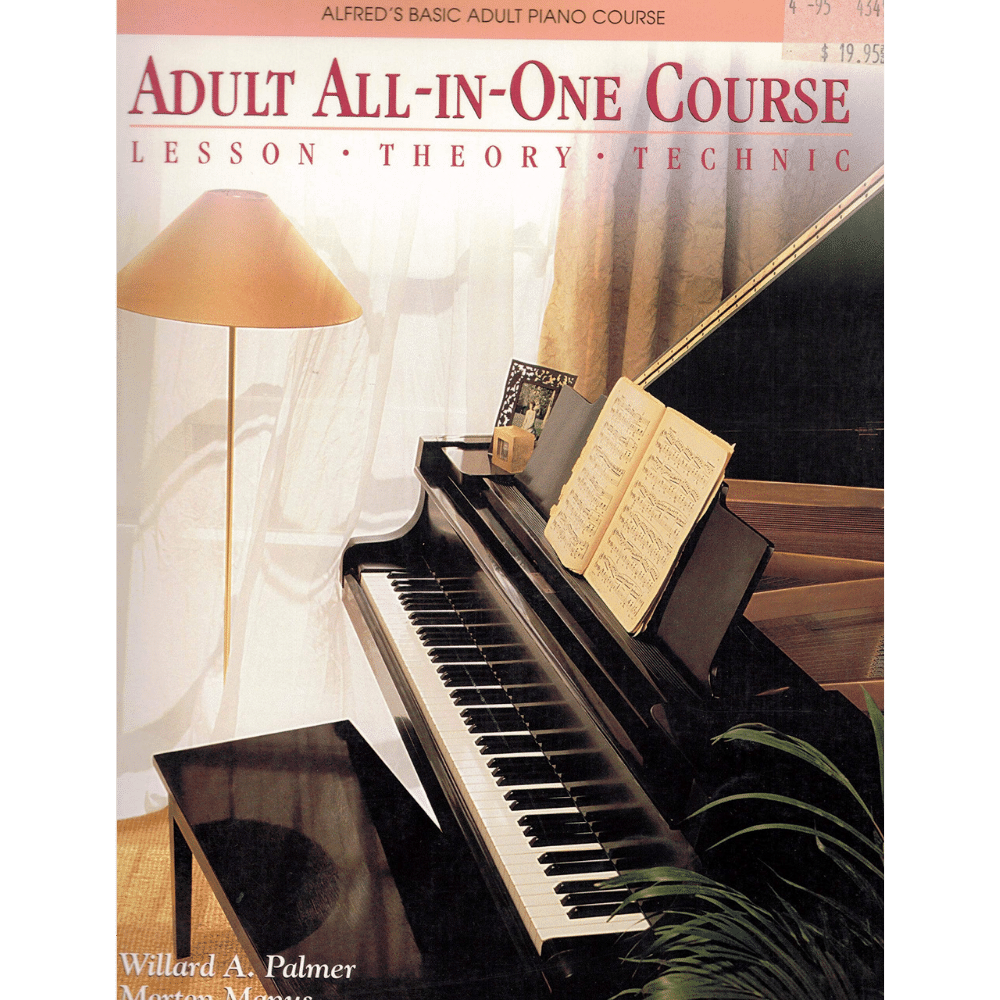 Alfred's Basic Adult All-In-One Piano
Check Price on Amazon
Why do I love it?
This comprehensive book contains a wealth of information on all things piano, from basic techniques to music theory. What sets it apart from other piano books is its step-by-step approach to learning. The book is divided into sections that take you through the fundamentals of music and gradually build up your skills with each lesson. What I appreciate most about this book is its focus on correct playing habits and techniques.
What you should know
Alfred's Basic Adult All-in-One Course is the perfect choice for someone who's just starting. This book has everything you need - lessons, theory, and techniques - all in one place. It works great if you have a teacher to help you along the way.
There are lots of cool exercises to help you get better at playing and the lessons are easy to follow. You'll learn about things like playing chords and playing different styles of music. And there are lots of fun songs to play - famous classical pieces, folk music, and modern songs! At the end of the book, you'll be able to play some of the most famous songs ever written and you'll have a good understanding of music basics.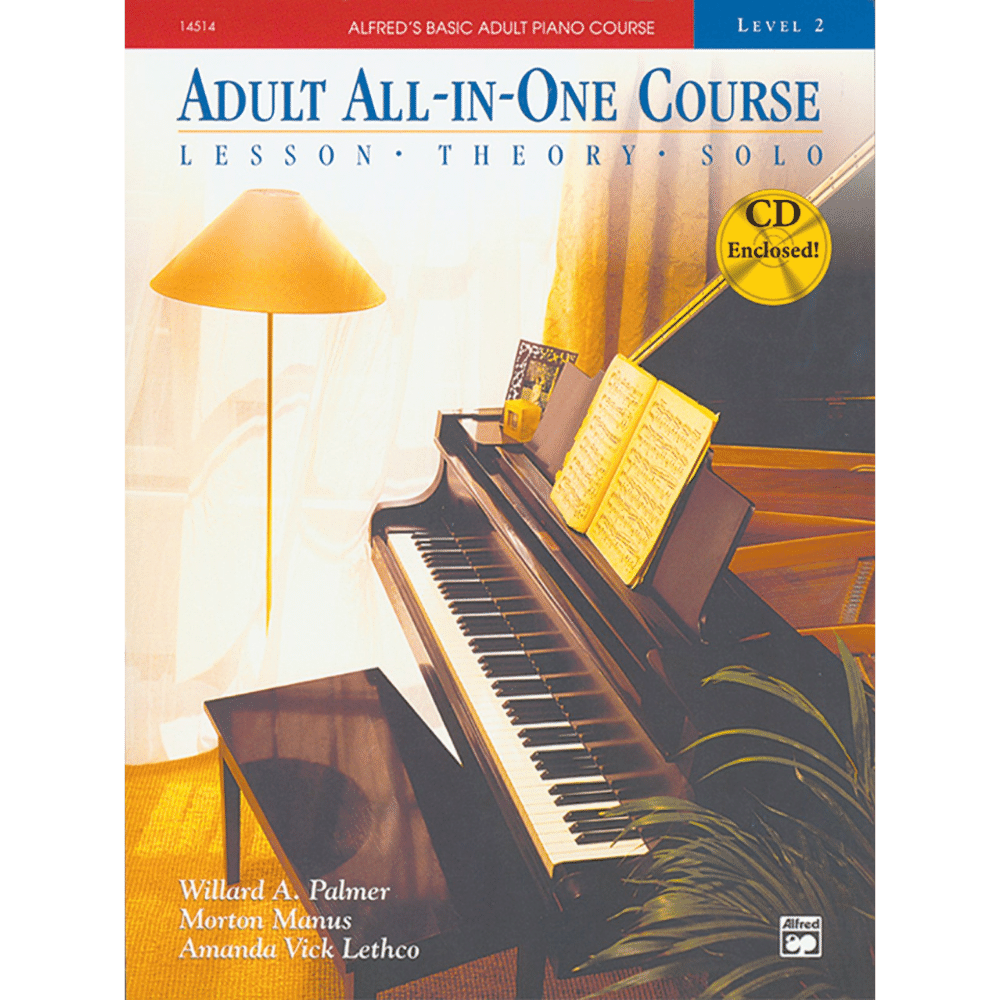 Alfred's Basic Adult All-in-One Course, Book 2
Check Price on Amazon
Why do I love it?
What I appreciate most about this book is that it is tailored specifically for adults who are looking to further develop their piano skills, but still want a bit of guidance along the way. One thing that sets this book apart is the focus on technique exercises – I noticed a significant improvement in the clarity of my playing after working through some of the exercises in this book.
What you should know
If you're considering picking up this book, there are a few things you should know. First, this book is not for complete beginners – it's geared towards students who have already completed Book 1 and have a bit of musical experience under their belt.
Book 2 continues to build on the foundation laid out in Book 1, so it's important to have that knowledge before diving in. Additionally, the book covers a wide range of musical styles and techniques, from interval recognition to simple rhythms to basic piano techniques. This makes it a great all-in-one resource for adult learners who want to expand their knowledge of piano playing. Overall, I highly recommend Alfred's Basic Adult All-in-One Course, Book 2 to any adult piano player who wants to continue their piano journey.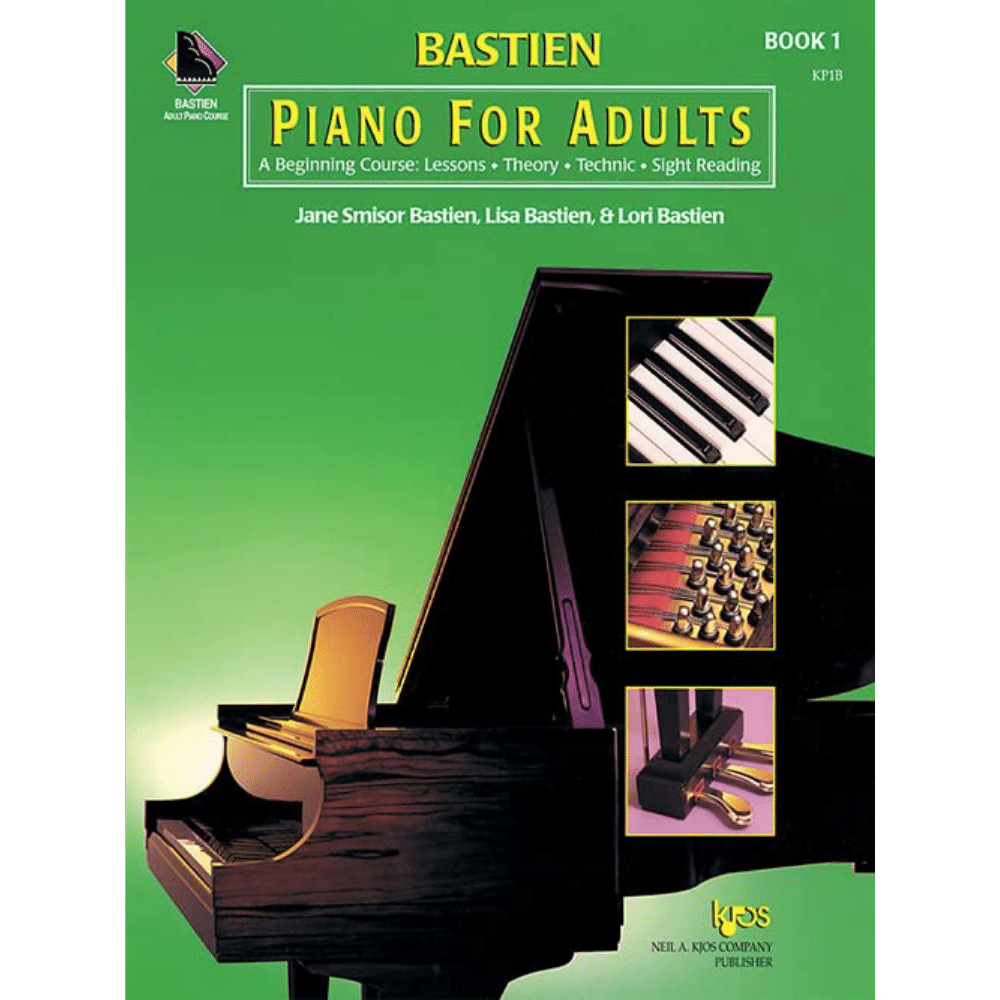 KP1 - Bastien Piano for Adults Book 1
Check Price on Amazon
Why do I love it?
What's so great about this book is that it shows you how to put your fingers on the piano keys the right way. This is important because it can be tough to start playing if you don't know how to put your fingers on the right keys. You'll be able to learn the music without worrying about finger placement.
I also appreciate how the book provides a wide range of musical styles, including classical, popular, and folk songs. Additionally, aside from the pieces to play, the book also contains technical exercises that help develop piano skills, which I found very helpful.
What you should know
If you are a beginner in piano and looking for a comprehensive book to guide you in your musical journey, then you should consider getting Bastien Piano for Adults Book 1. The book starts with simple exercises for correct playing habits and basic piano techniques. It also introduces interval recognition, intervallic reading, and sight reading.
The book then guides the beginner through a variety of musical styles, including famous. The book also includes informative sections about playing techniques and music theory. The content of the book aims to provide a strong foundation for adult learners who have little to no musical experience.
The right book for you!
Well, it's never too late to learn the piano. Even as an adult, you can still master this musical instrument with the right tools and resources. That's why it's essential to choose the best beginner piano books to help you get started on the right foot. From personal experience of learning how to play the piano, I recommend Hal Leonard. He is a well-known publisher that produces some of the most popular instructional books for adult students.
Honestly based on my research I found any of the piano book recommendations I listed will help you on your journey. With these beginner books, you can take advantage of step-by-step instructions and follow along with instructional videos at your own pace.
You don't have to worry if you're a complete beginner because these books are designed for people like you who are just starting. Plus, if you have access to a piano instructor and streaming video, you can get even more guidance as you progress through your lessons.
Not to mention, taking things slow and easy with intermediate-level piano method books also helps with music reading comprehension. There's something out there for everyone. Why not dive in and start your journey toward piano mastery? Click on any links above you won't regret it.